SCT-ICE | Crystallization unit
The cGMP SCT-ICE unit is designed for easy access and exchange of modules, depending on the customers needs. Its' versatility enables the production of different compounds by simply exchanging the modules in between production runs and clean-in-place activities. It is designed to abide to the advices set out in the ICH Q13.

The number of parallel placed reactors depend on the batch definition, filtration strategy and production need. Secoya will design together with the client the optimal instrument for their needs and to fully incorporate the unit into a factory 4.0 environment, thanks to the open communication software programmed specifically for the instrument.

The SCT-ICE equipment can accommodate both reactive, cooling and antisolvent crystallization. Different versions are available for isolators, ATEX proof, high temperatures, and corrosive solvents.

Even at the larger execution, the SCT-ICE can be coupled with different crystal slurry treatment strategies, depending whether the unit's purpose is single or multi-compound.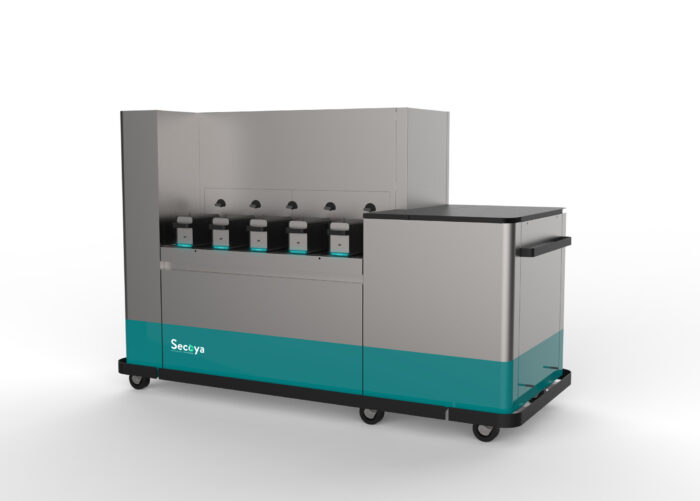 Key features
5 and 10 module versions, based on Secoya Crystallization Technology
Operation freely selectable between 1 and 5 (10) modules: 4 to 20 (40) kg/day of crystalline product*
Change between cooling and antisolvent mode by using different modules
Modules may be standard reactors or molecule specific
Manual, visual and software control of coupling modules
Two buffer tanks inside, feeding from outside with volume control (accessible with doors and frame panels), volumes may be adjusted according to client
1 plug, 1 ethernet cable for data transport
Unit dimensions: 2.5 x 1 x 1.80 m³ (LxWxH)
Easy coupling with retention tanks or filtration unit (contact us for your isolation preference)
All materials, assembly and software are GMP compliant
*Calculation made using 100 mg/mL solid yield and flow-rate of 30 mL/min per module
Resources
A highly controlled process
Unlike any alternative process, the Secoya crystallization technology is based on the precise control of spontaneous nucleation through the use of millifluidic tubular reactors upon cooling and different antisolvent addition possibilities. Using such capillaries, any parameter influencing the nucleation is ideally optimized and controlled.
Secoya's crystallization technology is unique, enabling crystallization of molecules in a single process step avoiding difficult work-up when performed with conventional batch systems.
Want to know more about the SCT-ICE?
Question ? Contact us by filling in the contact form below or pop us an email at info@secoya-tech.com